2017 17.0.0.611
Kaspersky Anti-Virus will allow you to protect your computer against any threat. Download Kaspersky Anti-Virus and manage to have quality protection

Protect your PC with a professional antivirus
Kaspersky Anti-Virus is a security system that protects your computer against any threat that tries to access the system. This antivirus efficiently combines the reactive and preventive protection to eliminate threats before they can cause any damage. Kaspersky Anti-Virus will prevent any virus, trojan, worm or spyware program from accessing the system. Furthermore, its fame defines it as one of the best antiviruses.
Quality analysis
One of the most noteworthy functions of Kaspersky Anti-Virus is its powerful virus detection engine, that allows you to efficiently find any threat no matter how elusive it is. Kaspersky Anti-Virus will perform an analysis of both the system files and those of the applications installed to detect suspicious behavior and possible vulnerabilities. What's more, you'll be able to program analyses and updates so that they take place automatically. It also carries out an optimization of the system to improve its performance and security.
Noteworthy features
Analyze websites and emails.
Real-time protection.
Gadget to access the functions more quickly and easily.
Rescue disc to block suspicious behavior and disinfect the system after an attack.
Advice to avoid and solve vulnerabilities.
With Kaspersky Anti-Virus you can avoid your digital identity being supplanted and you'll be able to browse the Internet with total security, with both protection for bank movements, online shopping, or the sending/reception of email. Furthermore, you'll obtain protection for the documents stored on portable devices.
Don't think twice and place your security in the hands of Kaspersky Anti-Virus.
Innovations of the latest version
Improves the update of the antivirus in the background.
Improves the antivirus protection of emails.
Requirements and additional information:
Requires an Internet connection to activate the product.
The trial version can be used for 30 days.
Antony Peel at Google +
Images Kaspersky Anti-Virus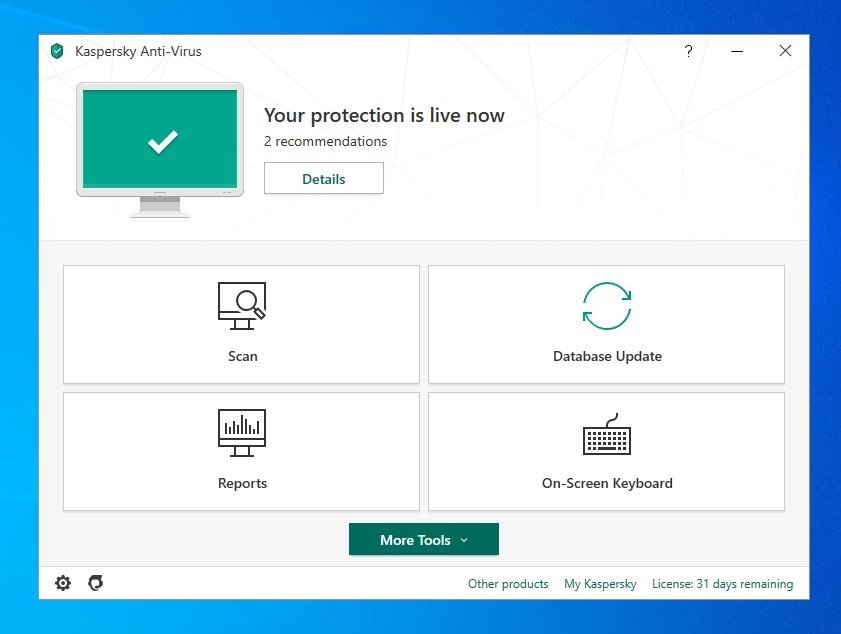 Protect your Android with Kaspersky's technology